Birthday Parties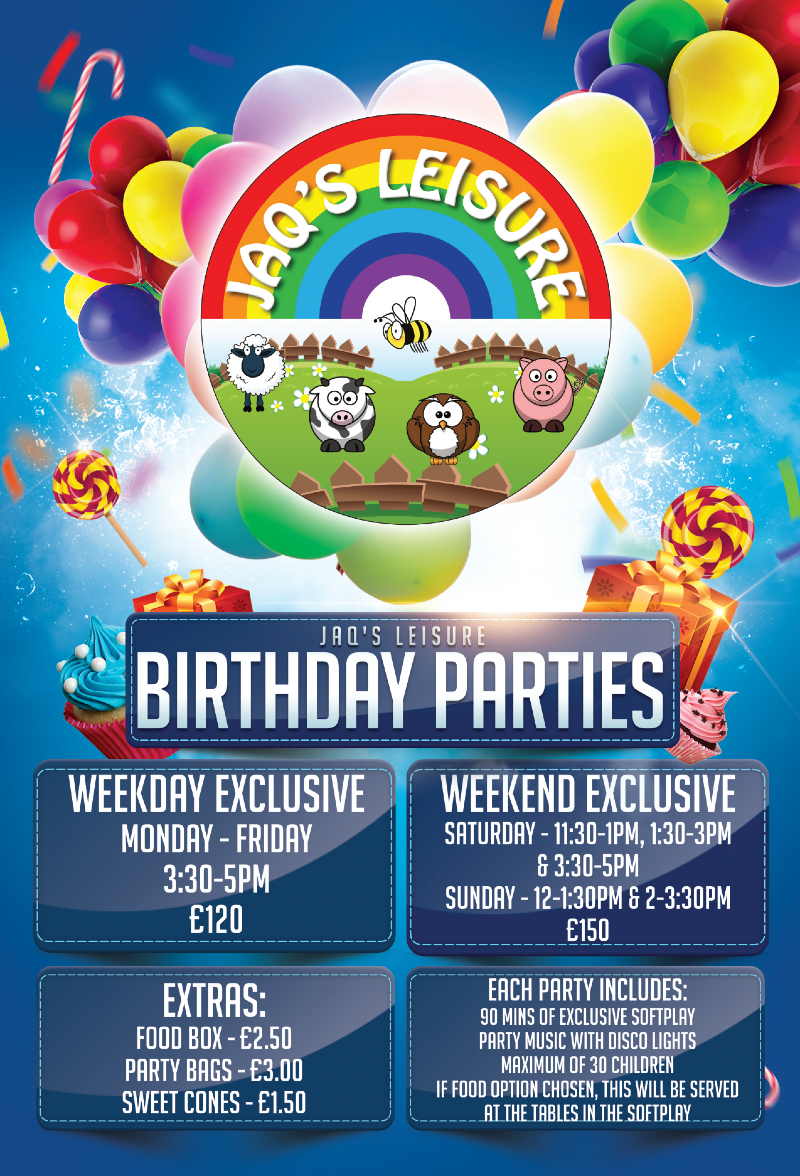 CLICK HERE TO DOWNLOAD FREE PARTY INVITATIONS!
Birthday Party Bookings - Terms and conditions
All party bookings are subject to the following terms and conditions:
All parties are secured with a £25 non-refundable deposit. Deposits can be transferred to another date with a minimum 7 days notice.

All parties are subject to a maximum of 30 children and 30 adults. You will receive a guest list with your confirmation email. This must be completed and returned to us 7 days before the party.

The party balance must be paid 7 days prior to the party date. We will email you to confirm these details and provide a payment link.

For all parties you will get: 90 minutes of exclusive use of the soft play, a party playlist will be playing throughout the party, Disco lights are available if required - and the main lights can be left on or turned off depending on your preference. You then have the choice of adding extras at an additional cost each, these include: A food box, party bags, sweet cones.

If you are adding any of the "Extra's" to your booking, we need confirmation of what you would like added and the numbers 7 days prior to the party date. Any changes to the numbers past this time may result in some items not being available or alternatively you will still be liable for the cost of any "No shows".

The exclusive party booking is for 90 minutes. Please be aware that there may be a party coming in after you and you must be leaving at the party end time to enable us to clean and be ready for our next booking. You are responsible for communicating the party start and end time to all of your guests.

If you are selecting the food option as an extra, all food will be served at the main tables in the soft play area. Food will be prepared in a food box with the chosen option in each box. Each food box will contain: A sandwich, a packet of crisps, A cup drink and a Fairy cake. We can cater for any dietary requirements and have vegetarian and vegan options available.

Food will be served and must be consumed during the 90 minutes. We will confirm with you on arrival the time at which the food will be brought out for the children.
All food options must be made in advance and we will need final numbers along with food choices 7 days prior to the party booking.

You are welcome to bring along a birthday cake. This can be cut and wrapped by our staff to be given out or placed in party bags for your guests as they leave.